Top 5 Cat Trees of 2021
It's no shock that I love cats and want to spoil my cats. This year I wanted to purchase a new cat tree to replace their old cat tree.
Currently they have this one from 2019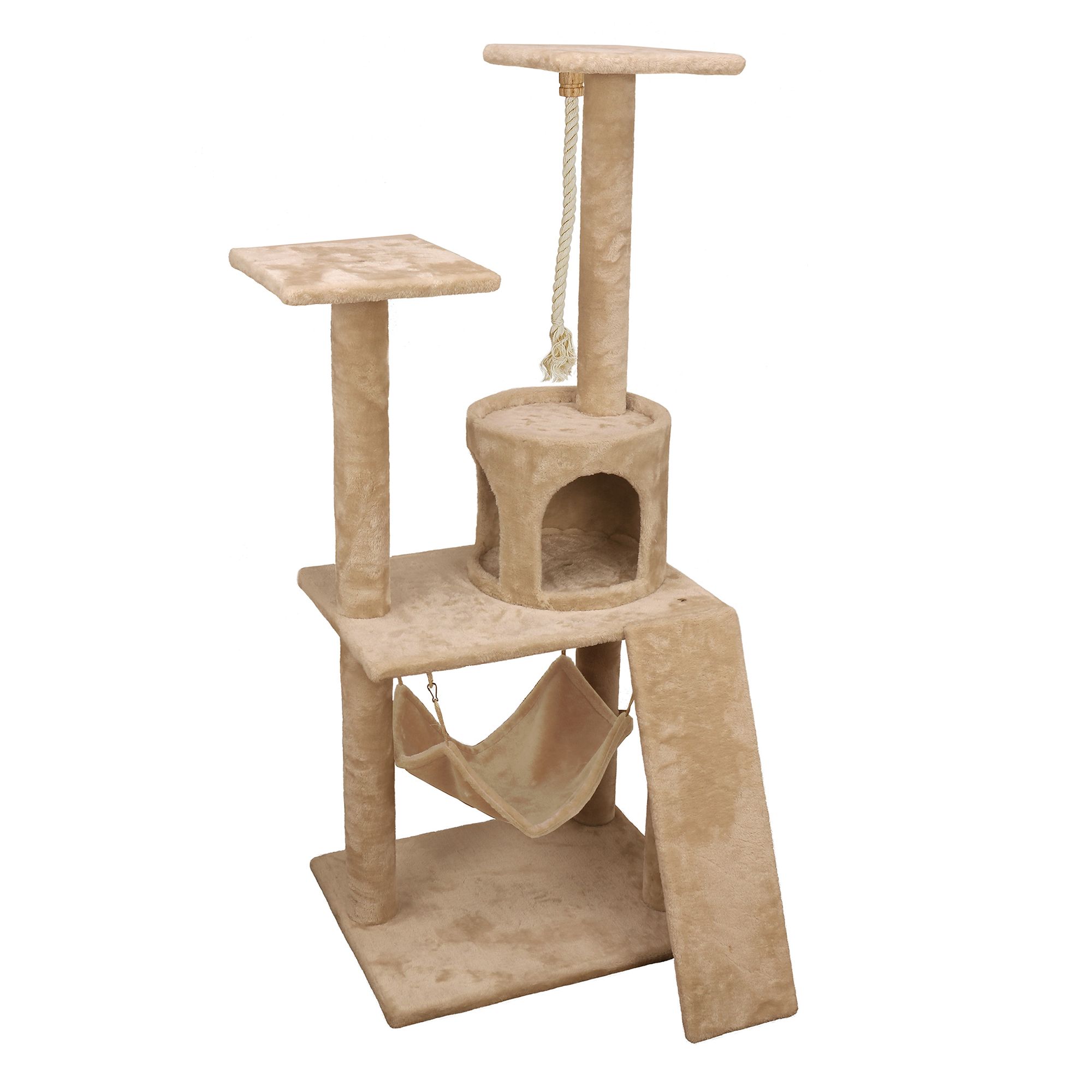 Minus the hammock because they never used it. Swapped the two pillars because they never got on the top one. Nor have they ever gotten inside that little cubby. I've put sisal rope on it a few times to help it look less worn but it was time to say goodbye. I also had a lot more space now so I could get them more cat trees.
This list is in no particular order.
1. Moonlight Cat Climbing Frame
WOW! This tree was not only adorable but very sturdy. I wanted something that was cute, functional, and would last and this checks all the boxes. After I ordered it they added two new styles that I wish I could have gotten instead. I mean how cute is this?! The biggest downside at the time of writing this is you are going to be waiting awhile for the cat tree (6-10 weeks). The positive is they're about 50% if you preorder. Unless you need a cat tree today this might be a great deal for you.
This tree has 6 different styles to choose from so you can pick one that suits you and your cats tastes the best. It also comes in a blue variant.
Moonlight Cat Climbing Frame on Happy and Polly, starting @ $74.99
2. Wonderland Cat Climbing Tree
Just like the Moonlight Cat Climbing Frame, this one stood out to me for its looks. I have a plant aesthetic in my office and wanted a cat tree that matched. At the time of writing this little fella isn't on preorder and can be ordered direct but you will be paying full price. I always opt for the largest size of cat tree since I have the space but this one comes in 4 sizes (S-XL) to fit any space. It can also hold up to 25lbs!
Wonderland Cat Climbing Tree on Happy and Polly, starting @ $84.99
3. Vesper High Base
This solid cat tree is perfect for daily use while also looking stunning. This is a great cat tree for an open concept area where you're looking for a more neutral color and design. It's super easy to clean unlike a traditional carpeted cat tree. This has removable memory foam pads that can be washed separately. They also sell replacement parts which was a big selling point in case parts get damaged after months of use or if there is a stubborn stain you can't get out.
A few cat cafes I have been to have Vesper furniture in their cat rooms. If it can survive a cat room it can survive your living room!
Vesper High Base on Catit @ $149.99
4. 60″ Henrietta Cat Tree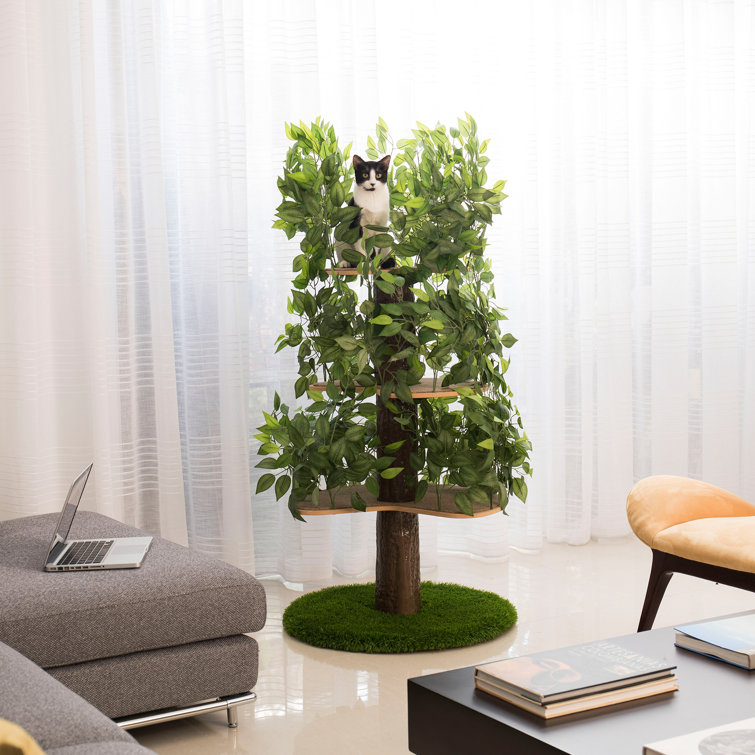 Tired of your cats eating your plants? Want to replace them with fake ones? Consider adding this cat tree to your cart. This cat tree looks like a decorative plant but also serves as a more natural cat tree. Each step is carpeted to provide extra cushion as your cat relaxes between the leaves.
Green not your aesthetic? This tree comes in 4 colors: fall (orange), green (in picture), plum (red & orange), and summer (more red than orange).
I didn't purchase this on Wayfair but that's what came up on my Google search and is what I will include below. If you want a different color than green you'll have to look elsewhere as it looks like Wayfair is out of stock of the remaining styles at the time of writing.
60″ Henrietta Cat Tree on Wayfair @ $117.64
5. Cat Bunker – Cat Tree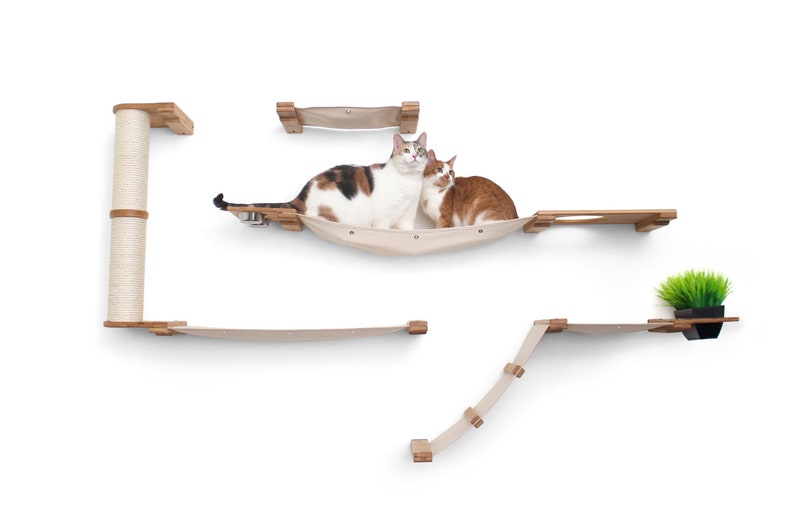 If you have a large, empty space on your wall this might be the perfect "cat tree" for you. While not a traditional cat tree, this wall mounted cat furniture provides all the same benefits that a normal cat tree provides without being on the floor. If the one above isn't your thing, thankfully there are loads of other businesses that offer similar concepts but in a wide variety of styles.
You can even mix and match different styles to give your kitty an even bigger area to explore. My personal favorite is this little rope bridge.
As with the Vesper cat tree, I often see cat trees of this style (not this exact one necessarily) in cat cafes and they usually have a few cats on them. I figured if it was a hit there maybe my cats would also enjoy one.
The biggest thing to look out for is making sure your wall studs are the correct distance as these need securely attached. Drywall will give-way shortly after if that's the only way they are secured.
Cat Bunker – Cat Tree on Esty @ $348.00
Bonus…my dream cat tree
6. Enchanted Forest Kitty Sanctuary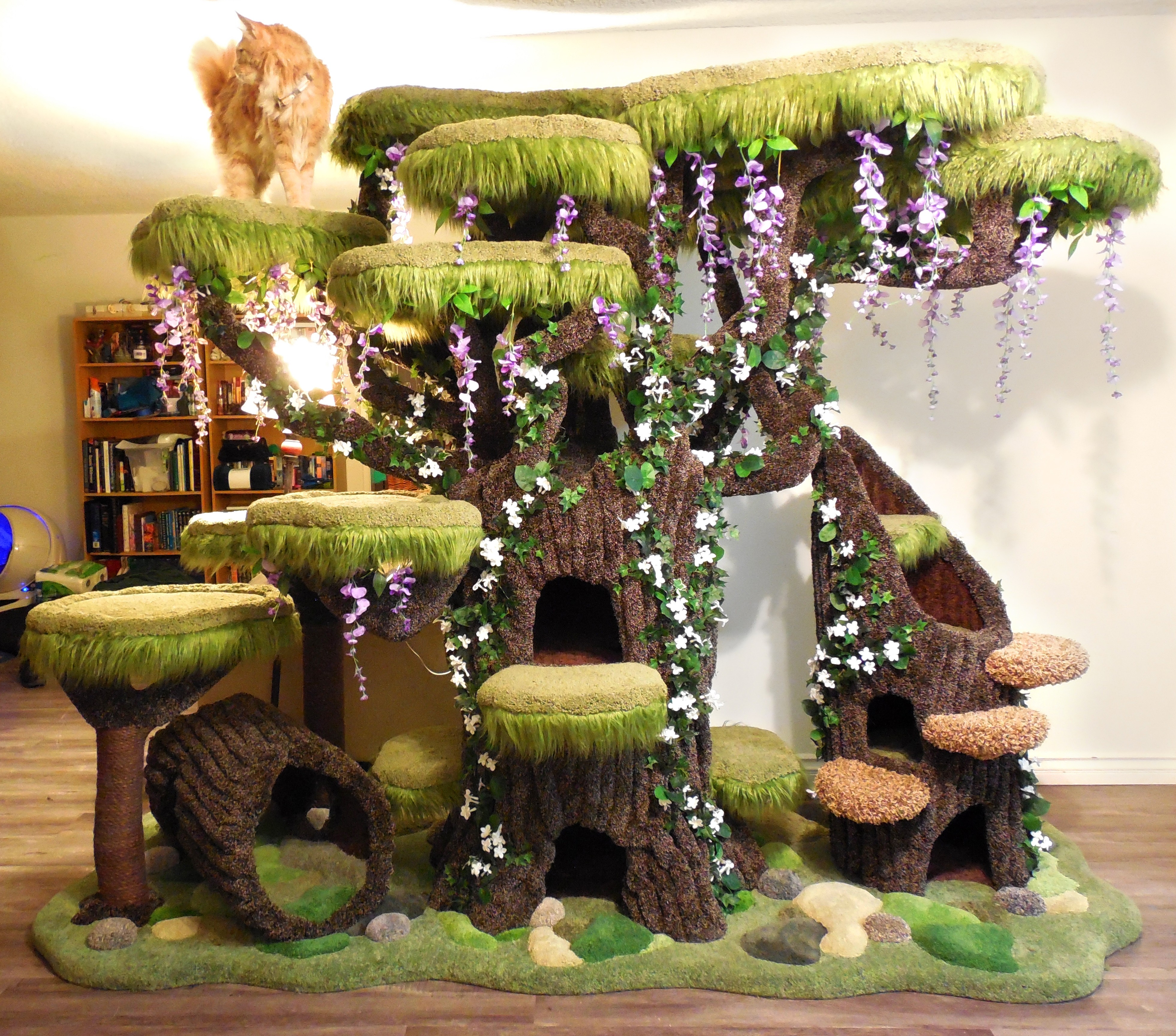 Ok I admit it. I don't own this nor have I ever seen one in person. But we can all have goals right? I'd love to be able to have the space and money to be able to get one of these decked out enchanted forest sanctuaries. These cat trees will have you waiting a least a year before you get yours and start at $899.00. One like the one in the image will cost you around $7000!
Thankfully if you like the look but don't want to fork over $7000, Hollywood Kitty offers other cat trees that are more affordable. Such as this enchanted tree stump condo, that'll still cost you back at least $429.00 and 6 months.
Enchanted Forest Kitty Sanctuary on Hollywood Kitty, starting @ $899.00
Now you know my house is really the cats and I just happen to live here and pay the bills. The one question I get asked is:
Do you cats actually use all of these cat trees?
Yes! I don't have enough cats for one cat to be on each cat tree (that's a problem I want to fix in the future) but they do rotate depending on the time of day and who is in the room. Usually in the evening they'll find me. If my one cat is laying on my bed my other might opt to sleep on the cat tree. The one sits by a window that gets sun in the morning and that's always a hot spot to snag. The wall mounted by far gets the least amount of use.
If you're unsure if a cat tree is right for you check out our blog that talks about their benefits and how to pick the correct one.
What cat tree do you own? Is it one of the above? Let us know in the comments and share pictures if you own an Enchanted Forest Kitty Sanctuary!
https://wetnosespetsitting.com/wp-content/uploads/2021/10/1199742_Pinterest-Blog-Images-October-2021_03_100621.png
900
600
Liana Sanders
https://wetnosespetsitting.com/wp-content/uploads/2017/05/wet-noses-logo-420x120.png
Liana Sanders
2021-10-09 13:04:24
2021-10-09 13:05:11
Top 5 Cat Trees of 2021